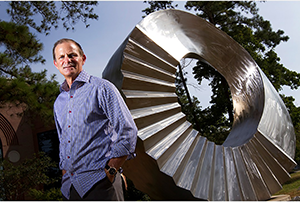 Bobby Freeman, a certified public accountant and licensed attorney, currently serves as President of Tower Park Corporation, a real estate design and development company and as Chief Executive Officer of Tower Park Management Corporation, a commercial and multi-family residential property management company. His development company specializes in the planning and implementation of mixed-use developments, office parks, co-work facilities, shopping centers and commercial mixed-use properties. His company developed Port Warwick, an award winning $500 million dollar "smart growth" mixed-use community in Newport News, Virginia for which Bobby received numerous awards, including Virginia's Citizen Planner of the Year award.

Mr. Freeman obtained his undergraduate and master's degrees in accounting at Virginia Tech, obtained his certification as a public accountant in 1980 and worked for several years with Coopers and Lybrand, CPA's. He attended law school at Campbell University in North Carolina, and upon graduation in 1981 was employed by Jones, Blechman, Woltz and Kelly, the largest law firm on the Virginia peninsula. Bobby was with the firm for 19 years and became the firms managing partner for the last 5 years of his association with the firm. After leaving the law firm, he established Tower Park Corporation and Tower Park Management Corporation.

Mr. Freeman is the chairman of the board of Virginia Health Services, Inc., a regional retirement services company headquartered in Newport News, Virginia. He is also chairman of the board of Advex Corporation, a marine and industrial manufacturing company located in Hampton, Virginia. He served on the Board of Visitors of Virginia Tech in Blacksburg, Virginia and Christopher Newport University, a public university in Newport News, where he served as chairman of the Board for 5 years. Bobby is also past chairman of the board of directors of the Virginia International Terminals, a regional organization that operated the Ports of Virginia.

In addition, Bobby is the founder of the Newport News Public Art Foundation, a public non-profit organization which has installed twenty permanent monumental sculptures in the City of Newport News. Freeman also founded the Port Warwick Foundation, a public non-profit organization that brings regional public events to Styron Square in Port Warwick including the annual Port Warwick Art and Sculpture Festival and the Port Warwick Summer Concert Series, both of which events he created. He also currently serves on the board of the Vineyard Theatre, an off-broadway theatre company in New York City.

Freeman was awarded an honorary doctorate by Christopher Newport University in 2003 and was presented the Gracey Award for Extraordinary Service by the Virginia Peninsula Rotary Club in 2005. In 2006 he received an Alli award for contributions to the cultural life of Hampton Roads, Virginia. In 2007, Freeman was named the Virginia Peninsula's Citizen of the Year by the Daily Press, the area's largest regional newspaper. He received the Virginia Center for Inclusive Communities Humanitarian Award in 2016.